Reviews
Best Outboard Motor Lock – Safest Outboard Engine Locks
If you're someone who enjoys a relaxing day on your boat or someone who is a sporting fisherman, then you would know how crucial an outboard motor lock is. Having an outboard lock secures your boat when it's not being used. 
Are you searching for the best outboard motor lock for your precious boat? Look no further because we have mentioned some of the best brands to choose from. These locks come specially designed to meet your purposes. Take a glance at some of the best options available in the market for your outboard motor. 
Best Outboard Motor Lock
Outboard Motor Lock Reviews
1. PANTHER MARINE Outboard Motor Lock Stainless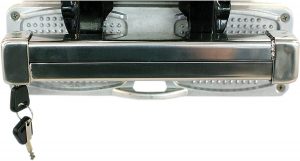 For 30 years, Panther Marine has been the top seller of outboard Motor brackets and several other products.
Rating: 4.6/5 stars
Features:
This outboard lock fits on the engine's mount bolts preventing the loosening of transom nuts. 

It is constructed of high strength 316 stainless steel along with anti-theft by drill protection.

The lock can fit up to 12mm engine bolts.

The lock comes with 2 security keys that cannot be duplicated, which ensures any safety concerns. 

It also comes with noise dampeners to reduce rattle. 

The outboard bracket is a heavy-duty product that fits turnbuckle design. 
---
2. Fulton OML 0127 Outboard Motor Lock
Fulton is one of the most leading brands in aquamarine and utility trailer products with over 105 years of impeccable performance. The Fulton line has some of the exceptional trailer jacks, winches, and couplers has set the standard for medium and light-duty trailering.
Rating: 4.3/5 stars
Features:
This outboard motor lock from Fulton is a heavy-duty barrel key lock mechanism for maximum security.

It features a foam filler insert, which helps in reducing noise and vibrations.

This lock can mount on most of the outboard motors.

The lock includes 2 keys and comes with a 5-year warranty, which makes this lock incredibly long-lasting. 

The lock also fits over mounting clamp handles. 
---
3. McGard Single Outboard Motor Locks
McGard offers you the most selected line of marine security products in the industry, and it is an exceptionally renowned brand in the market. 
Rating: 4.4/5 stars
Features:
This lock from McGard gives the best protection against costly outboard motor theft.

It is specially designed to lock the bolt which holds the outboard onto the transom of the boat by a very simple replacement of one of the mounting nuts with a McGard lock.

This outboard motor lock is fully machined from high-quality stainless steel and is also hardened thoroughly. 

The free-spinning collar in the lock starts to turn if attacked by gripping tools.

It will fit Yamaha 40 hp and larger (2 strokes), Honda 40 hp and larger, Yamaha 30 hp and larger (4 strokes), and Suzuki 25-140 hp. 

It is set of 1 lock, 1 key, and 1 thread lock adhesive. 
---
4. Amarine Stainless Steel Outboard Motor Lock
Amarine is a leading retailer that sources only the best consumer goods and ensures the highest quality possible. 
Rating: 4.1/5 stars
Features:
The outboard engine lock is made of polished stainless steel and is sturdy and well made. 

The lock can also be used in salt waters for long enough.

The brass lock fits most outboards, has an adjustable clamp slot and lock mechanism that suits different bolt diameters. 

It is super easy to use daily and doesn't get in the way. There is an internal sponge lining in both sections.

The lock doesn't vibrate or make any noise. Also, it will prevent your outboard from stealing and from the clamp to get loose.

The brass material used in this lock is wear-resistant, and its performance is much better. 

The lock is completely durable, does not rust, is sterilized, and has a smooth surface. 
---
5. SeaSense Outboard Motor Lock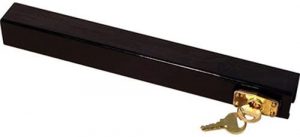 SeaSense is a vibrant company which is known for innovative products and creating the best on-the-water experience for its customers with innovation, passion, and dedication. 
Rating: 3.6/5 stars
Features:
This lock from SeaSense is very easy to install and fits over most of the outboard clamp handles.

The lock is made of marine-grade brass.

The lock does not rattle if you put some foam and so the noise can be lessened or is minimal. 

The lock is rust-free, thus lasting longer. 
---
Qualities you should look for when buying a motor lock?
Some of the crucial things to consider while buying an outboard motor lock is its CONSTRUCTION, such as sturdiness and durability, and the material used in making the lock. Another essential consideration is MAINTENANCE; it should be easy to maintain so that you do not have to look after it too much. Also, the lock should be easy to use with clear instructions and guidelines. 
Which one is the best of all?
In our opinion, the best outboard motor lock amongst the above mentioned is the panther Marine 75-8201 High-Security Outboard Motor Lock, which is made of stainless steel instead of the commonly used brass material. The one feature that stands out the most in this lock is its anti-theft by drill protection. As you would know, outboard motor theft is highly common, but this lock will ensure the safety of your boat. So now you can be relaxed and choose from the above motor locks. I hope you liked the article; I will be back with more such exciting topics soon again.